Car Accident Lawsuits
Binghamton Car Accident Lawyers – Best Rated Law Firm

Since 2015, Levene Gouldin & Thompson has been rated a Best Law Firm by U.S. News & World Report. Combined, our personal injury lawyers have over 100 years of experience and have obtained nearly $40 million in verdicts and settlements since 2010.
Our car accident lawyers accept car, truck, pedestrian and bike accident cases in the upstate NY area including Binghamton, Owego, Ithaca and Cortland. Call for a FREE CONSULTATION. 607.763.9200
Latest Car Accident Case News: Attorney John Perticone Obtains Max Coverage Under 3 Car Insurance Policies for Car Accident Victim
Car Accidents in the binghamton area
Car accidents are common and disruptive – and while you might not like to think about it, it is likely that you or one of your family members will be involved in a car accident. Car accidents in the region's largest counties, Broome and Tioga counties, send thousands of people to the emergency room and cause dozens of people to die every year. Car accidents can result in severe injuries including traumatic brain injuries and concussions, neck and back injuries, fractures and even death.
According to the New York State Department of Health, in Broome County alone, two people die, 19 residents are hospitalized and 189 residents are treated in an emergency room every two months because of injuries they sustained in a car crash.
Related: What is a NY PIP & No-Fault Insurance Claim?
Legal Help from the Car Accident Lawyers at Levene Gouldin & Thompson
While our Binghamton, NY car accident lawyers hope that you are never involved in anything greater than a minor fender bender, if you have sustained serious injury in a car accident, our law firm will help you:
collect evidence relevant to your accident,
determine who was at fault for the accident,
retain appropriate experts such as those in accident reconstruction,
give notice to the insurance company of the responsible driver, and
determine whether you may have an additional claim with your own insurance company – potentially getting you thousands of dollars of additional money for your injuries.
Our car accident lawyers have extensive experience in handling all types of car crashes including car, truck, pedestrian and bike accidents across New York and have obtained nearly $40 million for our clients since 2010.
Levene Gouldin & Thompson - Car Accident Case Results (Binghamton Area)
$1.6 Million Bike Accident in Whitney Point, NY (State Held Liable) - A young woman was hit while riding her bicycle in Whitney Point, NY. She was hit by a state trooper's vehicle sustaining injuries to her head and face. After a trial in the Court of Claims found the State liable, the case was settled for $1.6 million.
$800,000 Wrongful Death, Auto Accident in Maine, NY (Pre-Suit Settlement) - A woman in her 70's was killed in a head on motor vehicle accident in Maine, New York, leaving a husband and adult child. The case was settled prior to filing a lawsuit for $800,000.
$425,000 Car Accident in Johnson City, NY (Insurance Co. Made Initial Offer of $10,000) - The case involved a woman in her early 30s who was blindsided by a cable company vehicle and pushed into a median. She sustained neck and low back injuries that required multiple surgeries. The insurance company only offered $10,000, and on the eve of trial we settled the case for $425,000.
Car Accidents & Distracted Driving in NY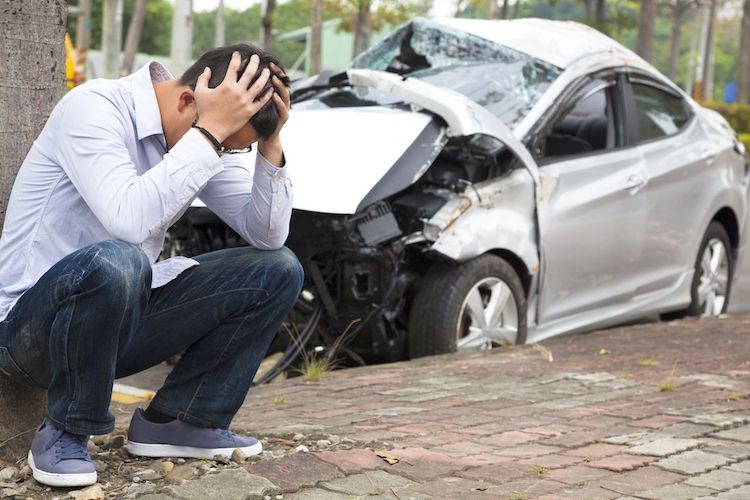 While cells phones have become an essential part of all of our lives, talking or texting on a cell phone, or using a navigation system is a leading cause of car accidents in New York because it causes the driver of the vehicle to turn his or her attention away from the road and the vehicles travelling on the roadway. According to the National Safety Council, cell phones are involved in an estimated 27% of all car crashes.
Car Accidents & Driver Intoxication
Driving while impaired or driving while intoxicated is a serious traffic safety problem in New York. According to the New York State Department of Motor Vehicles, more than 20% of all highway deaths involve the use of alcohol or drugs. In New York, a driver with a blood alcohol content of .08 is considered to be intoxicated and a BAC of more than .05 is legal evidence of impairment. BAC standards for commercial truck drivers are even more stringent. But not all impaired drivers are drunk. Even prescription or over the counter medication may impair someone's ability to drive. And a combination of alcohol and medication can be a recipe for disaster when operating a motor vehicle on the highway.
Other Causes of Car Accidents in New York
Reckless Driving - Unsafe or reckless driving, "road rage", speeding or tailgating are all significant causes of car accidents.
Poor Road Conditions – Inadequately designed roads or poor highway maintenance can sometimes be the cause of car accidents.
Defective vehicles – Though not common, sometimes car accidents can be causing by a design or manufacturing defect in the vehicle.
Our Car Accident Law Firm – Benefit from Our 100+ Years of Experience
With over a century of legal experience in personal injury law, our law firm has the resources and skills necessary to handle any car accident case, from a straightforward NY car insurance claim to a complex, multi-vehicle truck accident requiring an accident reconstruction.
Whether you or a family member have been rear ended while sitting at a red light, T-boned at an intersection, sideswiped or involved in a head on collision, our team will gather your medical records and assess your damages.
Injuries sustained in a car accident can be permanent – leading to job loss and lost wages. If you are unable to go back to work, or need to find another job because you cannot work with the restrictions your doctor has given you, this may result in not only lost income – it may result in a loss of health insurance benefits, retirement or pension contributions and other economic loss. If that happens, our NY car accident lawyers will employ other experts on your behalf in the field of vocational rehabilitation and economists to support your claim for economic losses.
While we make every effort to negotiate a fair settlement of your claim, if the insurance company doesn't offer you a fair settlement, we will commence a lawsuit on your behalf and aggressively pursue recovery for your damages. At Levene Gouldin & Thompson, we provide Personal Powerful Protection to each and every one of our clients.
Levene Gouldin & Thompson, LLP. Handling serious car accident and injury cases throughout Northeast Pennsylvania, the Southern Tier and Upstate New York including Steuben County, Bradford County, Susquehanna County, Chemung County, Tioga County, Tompkins County, Cortland County, Broome County, Chenango County, Delaware County, Otsego County, Towanda, Norwich, Oneonta, Cooperstown, Corning, Big Flats, Horseheads, Elmira, Ithaca, Spencer Van Etten, Montrose, Athens, Waverly, Owego, Vestal, Endicott, Johnson City, Binghamton and the surrounding area for more than 90 years.
Page last updated and reviewed: January 17th, 2023