Binghamton Family Law - What is Child Custody?
POSTED: January 22, 2019

Category:
Child Custody Cases - Legal & Physical Custody
By Binghamton & Ithaca Family & Custody Lawyers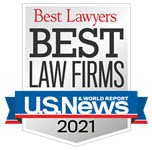 Levene Gouldin & Thompson has been Best Law Firm rated by U.S. News & World Report in Family Law (2018, 2019, 2020). LGT is one of the area's oldest law firms and was founded in 1927.
Our family law attorneys handle divorce, child custody and support matters in Upstate NY including Binghamton, Owego, Ithaca and Cortland. Call for a consultation. 607.763.9200
Child Custody - Legal & Physical Custody of the Child
Full Custody? Sole custody? Sole-full custody? Full-sole custody? Just, custody? Our Binghamton & Ithaca area family law and child custody attorneys have seen just about every variation of 'custody' imaginable on family court petitions. Lawyers oftentimes take for granted what these terms mean, but for others, the terms have different meanings. What exactly do people mean when they say they want 'full custody' of their child?
Custody is broken up into two sub-categories. The first is legal custody. This refers to the ability to make major life decisions for your child, such as medical, educational and religious choices. Parents might share joint legal custody, or one parent may have sole legal custody.
The second is physical custody. This refers to where the child spends the majority of his or her life – that is whose house the child sleeps in the majority of the time. The parent whose house the child sleeps in more often is the custodial parent (or primary custodian), and the other parent is the non-custodial parent.
Related: Path of a Child Custody & Visitation Case in NY Family Court
Visitation
In most cases, the non-custodial parent will still have visitation rights. Visitation is sometimes referred to as 'parenting time' or 'custodial periods.' Regardless, each phrase means essentially the same thing. In New York, the law presumes that a child's best interests are served by having a relationship with both parents. Except in extreme circumstances, both parties are entitled to visitation, even if one parent has 'full custody.'
When people refer to 'full custody,' I assume they mean sole legal custody. If a parent has sole legal custody, it implies that parent also has physical custody. This is because a custodial parent needs to be able to make major life decisions for the child.
If the other parent is enjoying visitation, however, that parent is also permitted to make some decisions for the child – decisions like what is for lunch or what game to play next. During a visit, it would be unreasonable to expect the parent enjoying visitation to call the other parent every minute to determine what the child is able to do next. Even with 'full custody', it's not realistic in most instances to expect the other parent to have no role in the child's life.
Courts encourage both parents to have an active role in their children's lives. Joint legal custody is appropriate in situations where both parents can openly communicate about their children's needs without constant conflict. In those situations, both parents get to make major decisions for their children – together. If a parent wants an active role in their child's life and wants to be involved in decisions as the child grows up, it's in both parents' best interests to work on their communication as early as possible. Custody lasts for eighteen years, which is a long time to fight.
Even for a parent seeking 'full custody' or sole custody, it's more than likely that the non-custodial parent will still be permitted to have a role in the child's life. When filling out your petition in family court, it is best to state specifically what you are looking for in regards to (1) legal custody, (2) physical custody, and (3) visitation.
The family law attorneys at Levene Gouldin & Thompson can help you prepare your petition and offer you guidance and assistance with your case, to help you achieve the outcome you are seeking.
Page last reviewed and updated: November 17, 2020